Hello and welcome i bet you are wondering what i will Show you here?
WELL i gonna Introduce a new Series here!It's called Pokemon Anatomy!
Today featuring:
Lucario!
Well let's go!
We gonna start off with the drops as i call them
Drops:
The drops use the aura from the user to give off a kind of signal.
They can be compared with a echolot just that they give off a few thousand signals in a second.
Thats the reason they vibrate when they are in use.
the user can them channel those signals in the brain and from there to the eyes.
With the help of this lucario can sense any moving aura that is three miles around him.
Everything has a different aura so it is easy to know if a human or a pokemon is coming.
The auras of a Species are very similair but every living thing has a unique aura.
We may come to this subject another time.
Humans can use this Aura radar too.
But it needs very much training and you will need a object to channel the waves.
Like a hat.
You can bind a item to your aura in a Special procedure.
it is important that it is a item you are very fond of.
it would be smart to use a item that is very close to your head like a earring,hat.bandana or goggles.
Spikes
The Spikes on the paws of a lucario collect aura when he is using a attack like Aura Sphere.
They work like a magnet to aura when activated.
The Aura flows into the hand goes into the bloodstream and trough the heart.
It goes back to the hands then.
I bet you are wondering why the aura has to go trough the heart first.
Well the Aura from the Souroundings has to be sinced with the own aura first.
The heart has is the spot where the aura of any living thing is generated.
This also the reason why theres a small delay of a half second when starting to collect aura for a Aura Sphere.
The Spike on the chest of a Lucario is always active and is collecting a little bit aura.
The collected aura will be mostly used to quicken the healing Procces of wounds.
Yes you can learn these things too.
But you will need a item as always.
you will need Gloves, Rings or a Scepter for that.
A scepter like this would also be useful for fighting purposes: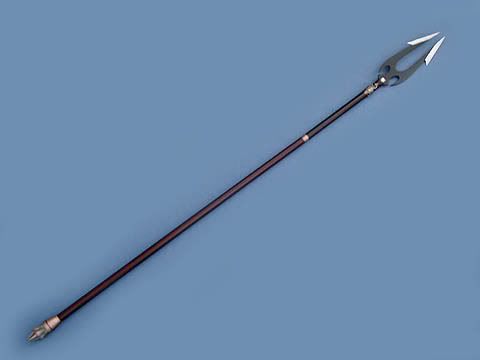 You might want to add a aura crystal to save some aura in it.
Aura Crystals are the remnants of very strong aura users that died.
You can reform them by using your own aura on them.
The same can be applied to a ring or a glove too.
You could make a ring out of a aura Crystal.
Or you could make the aura crytsals to a semi hard material using your aura(That is VERY hard to do)
and then produce gloves out of this.
You can also war a necklace for the healing part.
You have to get a huge amount of aura crystals for this tough.
You will have to make this huge piece of aura crystal smaller with the help of you aura.
it will then become extremely compressed and can be used to store very much aura in a small object.
Aura accelerating.
Aura boosting is something lucarios use like the chest Spike healing.
They always do it but can stop it if they want to.
The aura automaticilly gets infused in the muscles.
This makes kicks way stronger and they can jumo extremely high because of that.
Aura also flows into the rest of the body parts.
Thats the reason Lucarios can live very long.
They have such a strong aura that they can up to 500 years old.
There are legens of a 3000 year old lucario but i dont want to get on that subject now.
The aura flows also in they eyes and brain.
This highens the reflexes and eyesight.
You will someday use Aura accelerating too.
But it need a few months of very frequent of aura too make the body do it itself.
Because you have to get your Body to produce way more aura than you Species would normally.
(this does not apply to riolus/lucarios since they already produce a huge amount of Aura)
Humans can live up to 200 years with that technique.
Without any medication.
So this is the end of this little examination of Lucarios and Aura.
The aura tools that you create will be blue most of the time.
There are Special elements of aura.
but they are even more rare that shiny pokemon.
the Aura tools will then represent the colour of your element.
Red for fire.
Blue for water.
A Icy Blue for ice.
Green for Plants.
a Yellowisch Greend for bugs.
Yellow for electricity.
Pink for psychic.
Violet for ghost.
Grey for rock.
Silver for Iron.
Black for dark.
And White for Light.
White is a very rare power.
You will mostly get special aura attacks for each type of these.
Theres also a Extremely rare change of mixed types.
if you choose the Path of a Aura guardian than you might look like this one day :